ABOUT THE TRAINER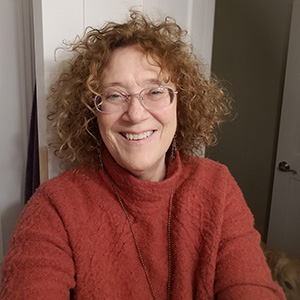 DEBORAH (DEB) M. HENSON, M.S.W., J.D., LL.M. is a "hybrid" solo practitioner in New Orleans and Denver: The Law Office of Deborah M. Henson, LLC, and Deborah M. Henson, MSW, LCSW.  Deb's law practice areas include mental health law, attorney discipline, and appellate.  Deb's former clinical practices in New Orleans and Denver included psychotherapy (adults, couples, families), clinical consultation, and parent facilitation (assisting divorced couples in co-parenting their children in a reduced-conflict manner). Deb is in the process of becoming licensed in Massachusetts (LICSW) and will be starting a clinical practice in Northampton later in 2020. For more details about both Deb's clinical and law practices see her Deborahmhenson website. Contact Deb at: beyond.ethics.deb@gmail.com.
Deb has been a Licensed Clinical Social Worker since 1980 and has always maintained a private practice of psychotherapy, even during law school and her various positions in the legal arena.  As a Gemini, Deb enjoys wearing two different hats (i.e., lawyer and clinical social worker), but never wears them both with the same clients!
Deb graduated from Tulane School of Social Work (MSW 1977), Loyola Law School (JD 1991), and the University of California, Berkeley (LL.M 1993).  Before law school and the resulting demands of a law career in addition to the clinical practice, as well as the arrival of her two incredibly-cool children, Deb used to teach in Tulane's MSW program: "Family Violence: Theory and Therapy " and "Clinical Work with Children."
After law school, Deb began training clinical social workers for several Louisiana Annual NASW (National Association of Social Workers) Conferences and for Tulane University School of Social Work.  The training programs usually included lectures in due process rights for social workers in disciplinary matters (i.e., board investigations of licensing complaints) and ethics issues in clinical practice.
Right after law school (1991), Deb served as Judicial Law Clerk for Louisiana Supreme Court Chief Justice (retired) Pascal F. Calogero, Jr. (1991-92).  Later, she also served Associate Justice (retired) Harry T. Lemmon as his judicial law clerk for several years (1996-98).  In between her two stints at the Louisiana Supreme Court, Deb taught legal analysis & writing, and appellate practice at the University of Pittsburgh School of Law (1994-96).
After leaving Justice Lemmon, Deb served as Board Counsel for the Louisiana Attorney Disciplinary Board for nearly two years where she assisted the Board in all attorney discipline aspects, wrote articles for the Board's publication, and helped organize the attorney probation monitoring system.   In 2000, Deb left the Board and began representing lawyers in disciplinary matters and consulting/lecturing in ethics risk prevention to attorneys as well as clincians.
In 2005, following her family's relocation to Austin, Texas after Hurricane Katrina, Deb began presenting half-day and full-day lectures for mental health practitioners in the Austin area through the University of Texas School of Social Work and St. Edward's University.  Around that same time, Deb also began training clinicians nationally through Cross Country Education and then PESI, Inc., two behavioral science companies that offer continuing education units for mental health professionals in every state.  Deb started her own training company – Beyond Ethics, LLC – in 2009.
Deb has lived in New Orleans since the late 1970s when she went to Tulane School of Social Work for her MSW and, later, for her JD from Loyola Law School. She's maintained a clinical practice of therapy, supervision and consultation since the early 1980s except when she was living elsewhere (e.g., Berkeley, CA for a year getting LL.M.; Austin, TX after Hurricane Katrina for several years; Denver, CO from 2015-18 and still practicing law there). Deb started practicing law in Louisiana in 1991 and still practices law in Louisiana as well as Colorado.
Recently, Deb got a wild hair about moving to Northampton, Massachusetts in early 2018 to run a Bed & Breakfast in this smart, quirky, artistic, tolerant, and generally kind, little City. The geographical closeness of Deb's adult children, Cody and Marissa, who live in NYC and Boston, respectively, served as a big draw to New England.
Deb has help in running The Pomeroy from a high-maintenance rescue dog, a young Golden Retriever, and 3 cats who run the show.
Deb offers space in her 1868 Second Empire Victorian three blocks from downtown Northampton's restaurants, shops, galleries, and bars for lodging or for events such as mediations or depositions (out-of-town witnesses can stay at the same house where the deposition will be held the following day, catering available).